How it Works
Full Service, Delivery or Pick Up - Choose the right level of service for your event.
Full Service Catering
Everything you need for a memorable event is included in the pricing of our full service menus!* Rosies specializes in serving hot off-the-grill meals to large groups with minimal waiting. Our cooks and servers will arrive at your event approximately 90 minutes before serve time. We include all of our own equipment – propane grills, buffet tables with linens and chafing dishes. Also included are all paper goods needed to serve and eat our delicious meals – plates, napkins, forks, knives and serving utensils.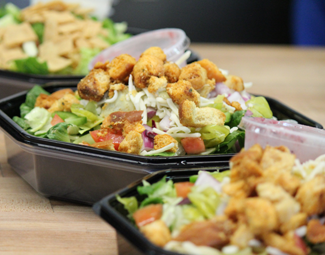 Delivery or Pickup
Our menus are also available for delivery to your location, or for pick up from our Kitchen in Chatsworth. Deliveries and Pick Ups include paper goods and plastic serving utensils.
For an additional fee, Rosies can also provide disposable wire chafing dishes and sternos for deliveries. Or, one of our servers can stay on site to help you serve and refill your buffet lines. Call Us for Pricing!
*Minimums.
Full Service
50 Guests
Delivery
Chatsworth – 15 Guests (unless otherwise noted)
San Fernando Valley – 20 Guests
City of LA - 30 Guests
Other areas in Southern California – Varies depending on distance from our Kitchen.
Pick Up
10 Guests
*Travel/Delivery Charges.
Travel/Delivery fees may apply depending on distance from our Kitchen.
We are fully licensed and insured!
All of our food is prepared in our Los Angeles County Health Department permitted kitchen.
We can work with you or your venue if venue-specific insurance is required.

Telephone: (818) 451-7131
10220 Topanga Canyon Blvd,
Los Angeles, CA 91311